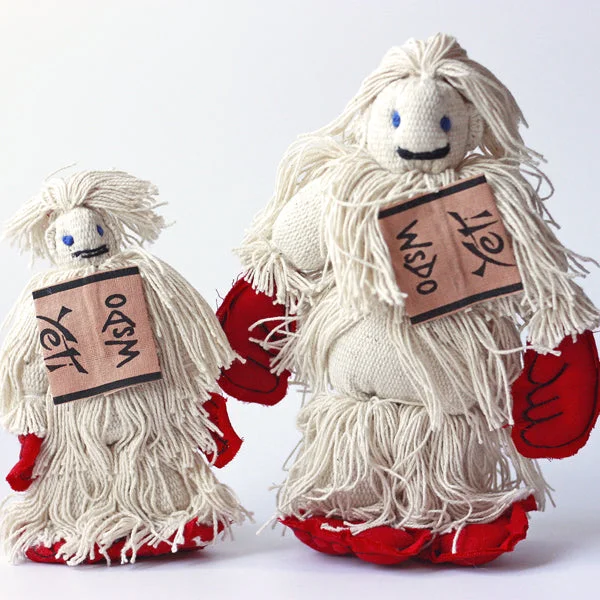 ${data.index + 1}/5
Model: Himalayas snowman
Height: other sizes
Material: 100% cotton
Product attribute Description

Origin/

COO:

Nepal

Name/

NAME

:

Yeti Key Chain/Doll snow monster keychain/Doll

Material/

CONTENT

: 

100% cotton

Size/

SIZE:

Keychain: about 14 * width 7 * side thickness 2CM

Doll: about 22 * width 12 * side thickness 3CM

The width measurement method is to measure from the left arm to the right arm.
Notice TIP
WSDO (pure fabric) and WOVEN (fabric stitching leather) use hand-WOVEN fabric, non-machine WOVEN fabric. After the thread is broken, there will be a joint knot (continue weaving), which is usually hidden inside, inevitable. 
WSDO and WOVEN all bag zippers use YKK JT zipper.
Dimensional deviation

: Unit: CM, handmade and sewn by different workers. The measurement size is to randomly select 1-3 products of the same type for measurement. There may be an error between 1-3CM. Please understand.
Washing advice

: hand washes in cold water quickly, do not soak for a long time. Uneven color please clean separately, do not mix and wash, easy to string color. WOVEN stitching leather series recommended dry cleaning.
TIP

: 

The product is dyed yarn first and then woven. The yarn is hand-dyed, and the fixation process is not as strong as domestic machine dyeing. The color will fade to different degrees after being washed. It is better to soak it with salt and vinegar for the first time, which can inhibit fading.
The Himalayas snowman is called "Yeti", which means animals living on rocks.
The legend of the snowman can be traced back to 326 years BC,
They are 1.5 meters tall to 4.6 meters tall, their heads are pointed and towering, their red hair is on the top, their whole body is covered with gray hair, and they walk quickly.
The legend of the snowman was gradually recognized by mysterious zoologists, attracting countless explorers to the Himalayas,
Find this mysterious animal that brings infinite fantasy space to human beings.
In the Himalayas, the snowman is depicted as a tall, half-human, and half-ape legendary animal.
- -_- -