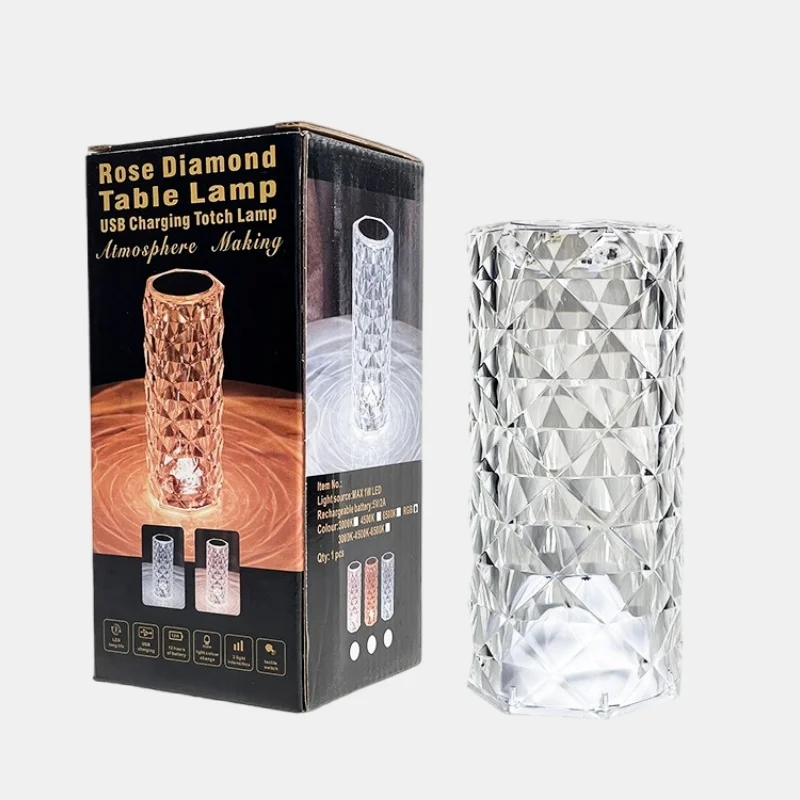 ${data.index + 1}/8
Product Name: Rose Diamond Table Lamp
Size: 9cm x 21cm / 3.54" x 8.26"
Color: 16-Colors Remote/Touch
Special Feature: Light color changing
Light Source Type: LED
Material: ‎Acrylic
Lamp Type: Table lamp/Night light
Item Weight: ‎1.04 pounds
Voltage: ≤36V
About this item
EASY TOUCH AND REMOTE CONTROL: Rose crystal lamp touch control with soft, non-dazzling lighting, the crystal RGB lamp can be controlled with a simple touch on the top of the lamp or through the included remote control. Perfect for any setting, this lamp is great for use in your home, office, cafe, or party. Use it to create a warm and welcoming atmosphere or to add a touch of elegance to any occasion with crystal night light.

MULTICOLOR LIGHTING FOR ANY OCCASION: The Crystal rose lamp is the perfect addition to any room or event. The  refraction crystal lamp with 16 colors to choose from and several dynamic scene modes, this crystal touch lamp can create any atmosphere you need. Whether it's a romantic evening with your partner, a lively party with friends, or a relaxing night at home, this crystal table lamp is sure to set the mood.

GREAT GIFT FOR YOUR LOVED ONES: The led crystal lamp is the perfect gift for any time. Imagine turning off all the lights and turning on this diamond lamp for a romantic evening with your loved one. It's also a great addition to any bedroom, living room, or dining table. This color changing lamp is sure to impress your friends and family with its beauty and elegance.

UNIQUE DESIGN FOR ANY ROOM: The LED crystal light is not just a lamp, rose touch lamp's a work of art. When it's off, it's a beautiful decoration for any room, but when turned on, it becomes a stunning blooming rose or a sparkling flower. With its gorgeous design and bright, colorful crystal night light, it's sure to be a conversation starter. Plus, if you have two led crystal lamp or more crystals lamp.